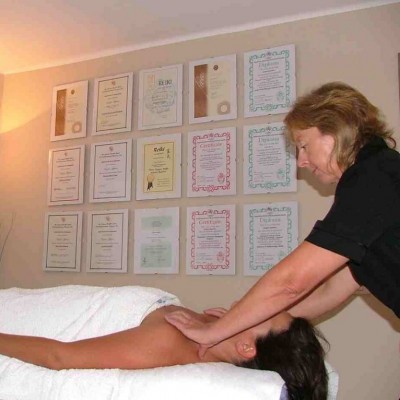 Angie Appleton
Angie's treatment room in Costa Teguise is situated on the ground floor of a villa on a beachfront complex. The treatment room is equipped with a modern electric couch, air-conditioning, heating for those rare chilly winter days and it's own private entrance and parking. It is in a tranquil setting close to Las Cucharas beach with an outlook on to a peaceful patio-garden and the sound of the gentle shore-break.
Angie started her holistic training in 1998 and is a professional and caring therapist, fully qualified, insured and a member of the International Council of Holistic Therapists. Angie regularly attends seminars and additional courses to expand her knowledge and expertise to benefit her clients.
During the initial free consultation Angie will listen to your needs and advise on a suitable treatment. All products used are of the finest quality, organic where possible and always individually blended to suit the specific requirements of each client.